LA CORRUZIONE DELLA NATURA UMANA NEL PENSIERO MEDIEVALE: BONAVENTURA INTERPRETE DI AGOSTINO
Parole chiave:
Antropologia medievale, Agostinismo, Peccato originale, Medieval Anthropology, Augustinism, Original Sin
Abstract
The current state of weakness and moral conflict is not the true condition of man, but rather the result of a fall, which has corrupted his nature. This is a conviction deeply rooted in medieval culture. It is also the idea already supported by Augustine in controversy with the Pelagians. According to these, a nature created good cannot be corrupted by the abuse of an individual, because sin is always a personal act and cannot be transmitted from father to son. The most penetrating reading of Augustine's speech can be found perhaps in the work of Bonaventure, the Franciscan teacher who worked in Paris in the mid of the 13th century. In the same years, the Dominican Thomas Aquinas, more attentive to the needs of the Aristotelian natural philosophy, that scholastic thought was rediscovering, judged the fall is not a real distortion of human nature, but rather the loss of supernatural gifts, by which God had exempted man from limits inherent in his nature. For Bonaventure instead, we cannot rationally admit that from a good, just and wise God originates a nature inclined to evil, marked by the concupiscence and destined to suffering, ageing and death. It was Adam's rebellion that merited the pain of this disorder, because that sensuality and the body do not obey any more the higher faculties of the soul. Nevertheless, man through his own forces cannot recover the primitive harmony. Only God can do it through his grace. Christ's redemption not only restores human nature, but also elevates it to the heavenly glory. However, this will only happen at the end of time, whereas now, in spite of the baptism that washes away the guilt, there remain concupiscence, ignorance and mortality. But it remains also a coercive social order, that is the domination of rulers over their subjects, husbands over wives and lords over slaves. This order, regarded as result but also as remedy of sin, must remain, and fallen man cannot aspirate to rebuild a paradise on earth.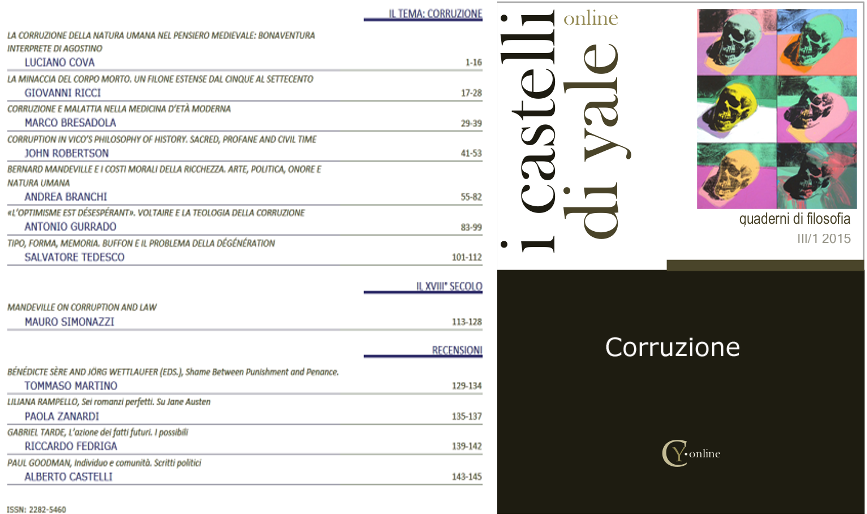 Downloads
Sezione
IL TEMA: CORRUZIONE