CORRUPTION IN VICO'S PHILOSOPHY OF HISTORY. SACRED, PROFANE AND CIVIL TIME
Parole chiave:
History of Philosophy, Philosophy of History, Early Modern, Enlightenment, Storia della filosofia, Filosofia della storia, Età moderna, Illuminismo
Abstract
Giambattista Vico's conception of a «storia ideale eterna», in which history is characterised by «corso» and «ricorso», is, on the face of it, highly likely to give prominence to the theme of corruption.  It is argued here, however, that corruption plays only a minor part in Vico's philosophy of history.  The explanation for this is found in Vico's purpose in the Scienza Nuova, to provide an explanation of the formation of human societies which would refute that offered by the Protestant natural jurists, Hobbes, Grotius, Selden and Pufendorf.  Against these, Vico would demonstrate the regular operation of divine providence in the «corso» and «ricorso» of nations; and in the «ricorso» following the fall of Rome he believed that modern monarchies had acquired the capacity to resist corruption.  By way of epilogue, Vico's philosophy of history is compared with Rousseau's: it was the latter, it is argued, who made corruption once again a major problem for moral, political and historical philosophers.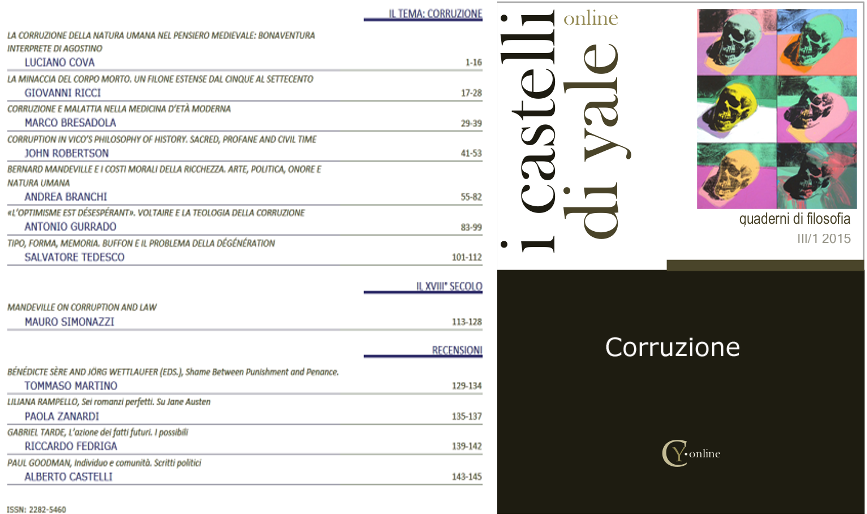 Downloads
Sezione
IL TEMA: CORRUZIONE