«L'OPTIMISME EST DÉSESPÉRANT». VOLTAIRE E LA TEOLOGIA DELLA CORRUZIONE
Parole chiave:
Storia della filosofia moderna, illuminismo, religione, History of Modern Philosophy, Enlightenment, Religion
Abstract
Voltaire's views on optimism are grounded on what Pope wrote in An Essay on Man. Voltaire replicates such views, yet in an altogether different context, in the Discours en vers sur l'homme and exposes a full theory of the middle nature of man in the Anti-Pascal (Lettres philosophiques). Yet, originally refusing the theory of original sin, Voltaire seems to consider it more likely from 1756 on, after the great Lisbon earthquake. From his Poème sur le désastre on, Voltaire protests that optimism imposes the idea that nothing can ever change and go better than in the present evil; as such, it is «désésperant». If the world has been corrupted by original sin, though, this does not mean that religion has to change following an evolving idea of God – as Voltaire puts it in 1763, when he delineates in his Catéchisme de l'honnête homme the final step of his theology of corruption.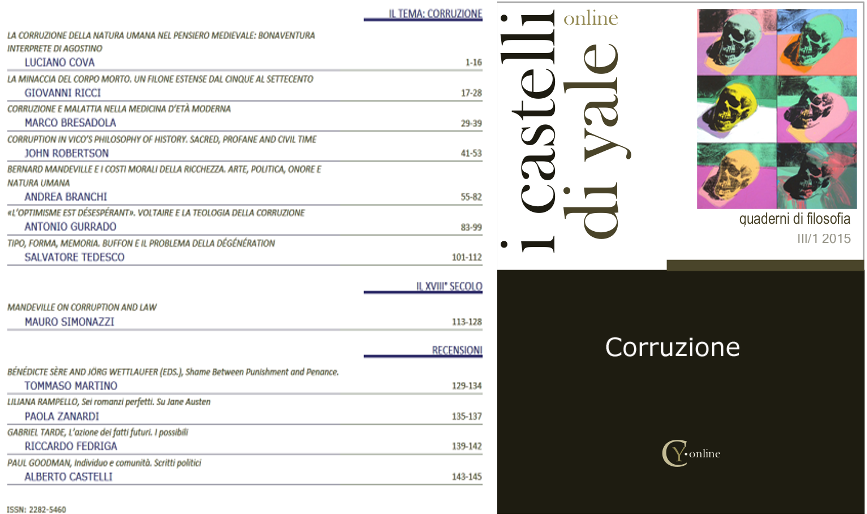 Downloads
Sezione
IL TEMA: CORRUZIONE