LA BELLEZZA DELL'OGGETTO D'USO QUOTIDIANO (AL TEMPO DI INTERNET): SAPER FARE, SAPER ADOPERARE, SAPERE
Parole chiave:
Aesthetics, Design, objects, internet, forms
Abstract
Over the last two centuries, the industrial revolution, the rise of the consumers' society, the globalization, the connected world, the internet of things have given rise to a progressive, fast creation, processing and dissemination of a new culture of objects, consequently and because of the artificial state of the habitat, the reduction of production and purchase costs, the increase in the cultural content, significance and meaning of the artifacts. The discipline that is responsible for studying, interpreting and defining the new nature of everyday objects is the one that is internationally defined today as Design. The Design gives to objects an aesthetics consciously directed to a goal, and anticipates possible needs, desires, behaviours, by interpreting visions, cultures, languages, in an expression that is synchronic, synesthetic, immediate, interactive. This essay considers the role that played by Aesthetics in the humanization of contemporary objects; the ways in which traditional and today's objects communicate; how the morphogenesis of objects has changed according to technical evolution, and what it can be today, when an object can have the ability of interpreting the aesthetics of other objects.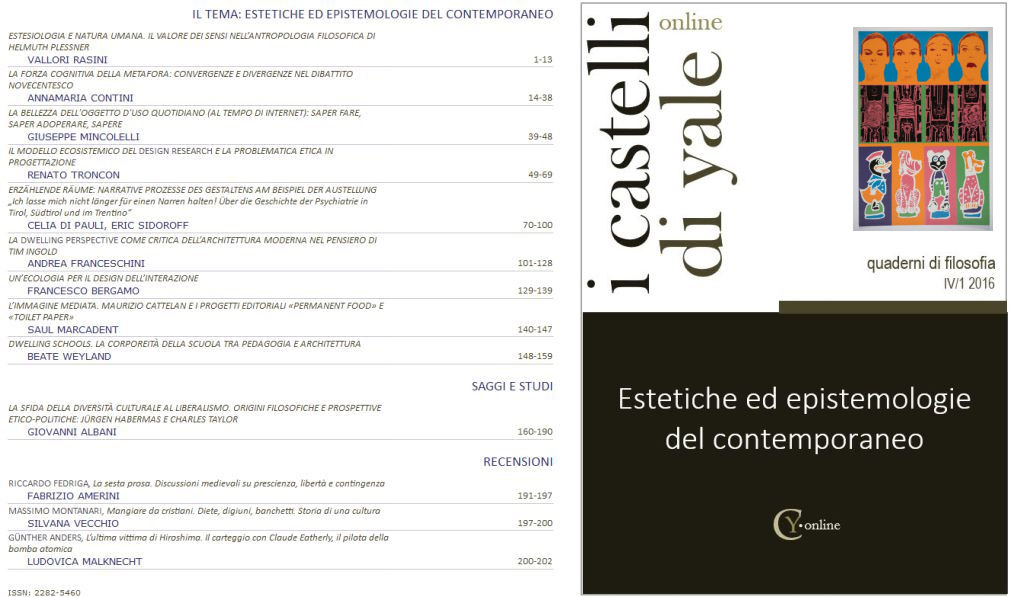 Downloads
Sezione
IL TEMA: ESTETICHE ED EPISTEMOLOGIE DEL CONTEMPORANEO