IL MODELLO ECOSISTEMICO DEL DESIGN RESEARCH E LA PROBLEMATICA ETICA IN PROGETTAZIONE
Parole chiave:
design research, design epistemologies, design ethics, design models, ecosystem, theory of complexity, actor network theory
Abstract
Concerning the chance of a deeper understanding of design and its procedures two alternatives are provided in literature: the one dealing with its hypothetical metastructures the other with the theories already operating in the field of design research. I contributed in some quite recent articles to the first direction discussing architectural design issues in relation to biology and, even, theology. In my present contribution I will challenge the second option, discussing briefly one of the best design theories: Donald Norman's theory of interaction design. More specifically, I will try to emphasize its ecosystemic  dimension connecting him to the actor network theory of Bruno Latour, the narrative semiotics of Algirdas Greimas and the so called artistic research, suggesting that the resulting design research models also provide a very effective support to ethical problems in design.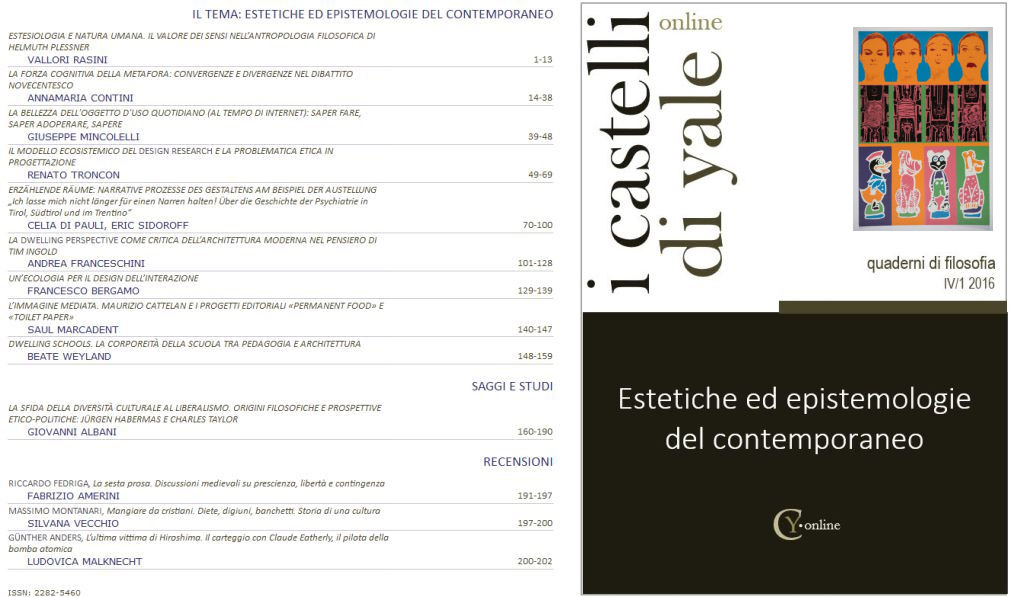 Downloads
Sezione
IL TEMA: ESTETICHE ED EPISTEMOLOGIE DEL CONTEMPORANEO