LA DWELLING PERSPECTIVE COME CRITICA DELL'ARCHITETTURA MODERNA NEL PENSIERO DI TIM INGOLD
Parole chiave:
Aesthetics, Architecture, Anthropology, Dwelling Perspective, Tim Infold
Abstract
This essay focuses on Tim Ingold's philosophy of architecture, with particular reference to ideas such as "flexibility", "complexity" and "ecology", which are crucial to understanding the «dwelling perspective» developed by the author. The dwelling perspective is the attempt to reconsider architectural practices from the inhabitant's "experiential" point of view, beyond the purely architectural interest in forms and aesthetics. This perspective is based on a phenomenological and pragmatical approach to arts and human practices which is meant to achieve the viewpoint of the everyday life's «ordinary hero» (de Certeau): the common man. This is an alternative vision to modern architecture's "top down" model. In the present contribution I also maintain the affinity of Ingold's thought with the classical philosophical anthropology in order to better contextualize his perspective on human nature from which derives also his dwelling perspective.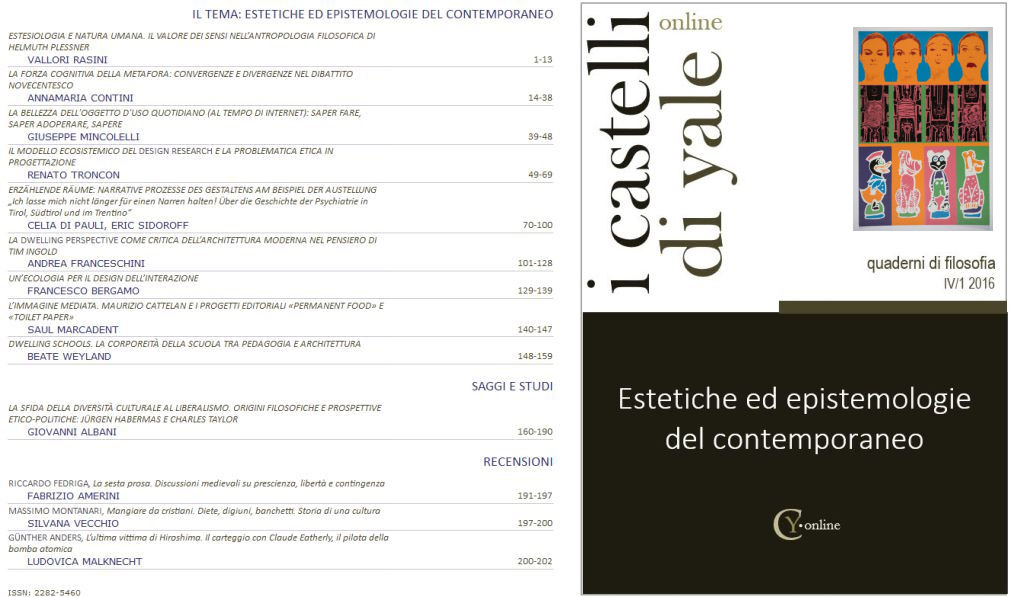 Downloads
Sezione
IL TEMA: ESTETICHE ED EPISTEMOLOGIE DEL CONTEMPORANEO