LA TEORIA DELL'INTERAZIONE SOCIALE. UNA PROSPETTIVA NEURO-PRAGMATISTA SUL RISO
Parole chiave:
Laughter, Smile, Pragmatism, Emotion, Enactivism, Affective Neuroscience.
Abstract
After more than two millennia of theorizing, a unified view of how laughter works is still lacking. Over the years, philosophers have proposed three predominant hypotheses to explain this peculiar human behavior, based on a feeling of superiority, the appreciation of something that violates our expectations, or the release of nervous energy. Contemporary affective neuroscience inherited these frameworks, attempting to parcellate the brain regions involved in laughter production accordingly. In the present paper, I will discuss a fourth hypothesis, suggesting that laughter is, first and foremost, a mean for social bonding and communication, evolved to change the behavior of others. Such 'social-interaction hypothesis', which links the emotional aspect of laughter to social action tendencies, is in line with a longstanding tradition that goes back to the early Dewey and Mead's theories of emotion, and the best equipped to explain new evidence from affective neuroscience.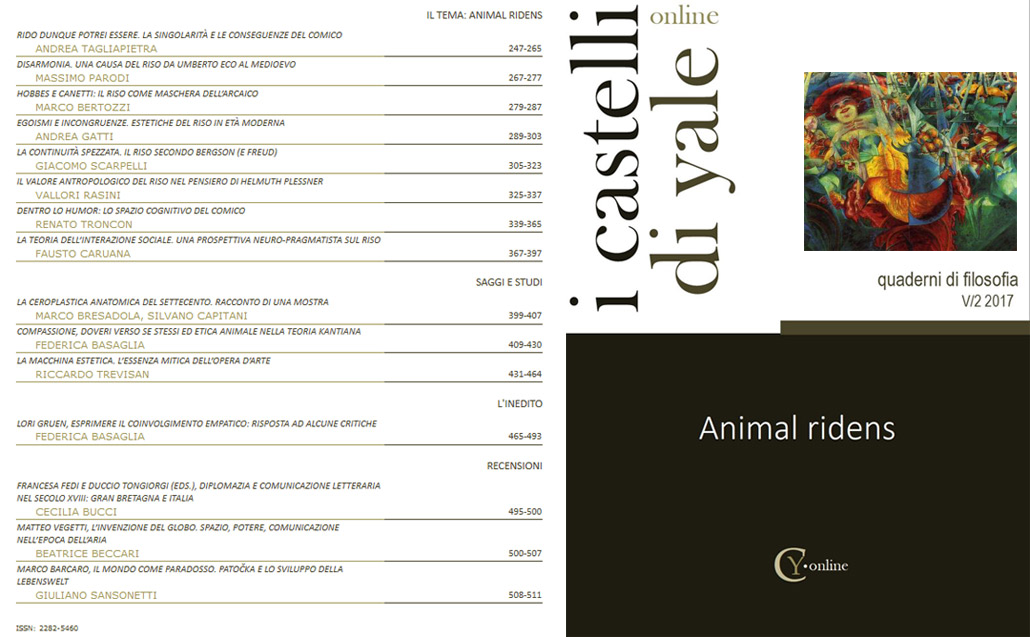 Downloads
Sezione
IL TEMA: ANIMAL RIDENS