BETWEEN ETHICS AND AESTHETICS. AGAINST THE MYTH OF REDUCTIVE THERAPEUTISM
Parole chiave:
Wittgenstein, Morphology, Aesthetics, Quietism, Therapeutic Reading
Abstract
My paper is about Andronico's work on the connection between Ethics and Aesthetics in Wittgenstein's later philosophy. In particular, I will focus on the role that her ideas play against the therapeutic reading of Wittgenstein's philosophy. I will argue that, contrary to such a reading, the ethical tone of Wittgenstein's philosophy should be understood as a consequence of aesthetical e-ducation, that is, the sharpening of the eye in order to see differently. I will show that (1) philosophy is a specific kind of theory and that (2) Cavell's notion of the rediscovery of the ordinary does not properly grasp the ethical force of Wittgenstein's remarks.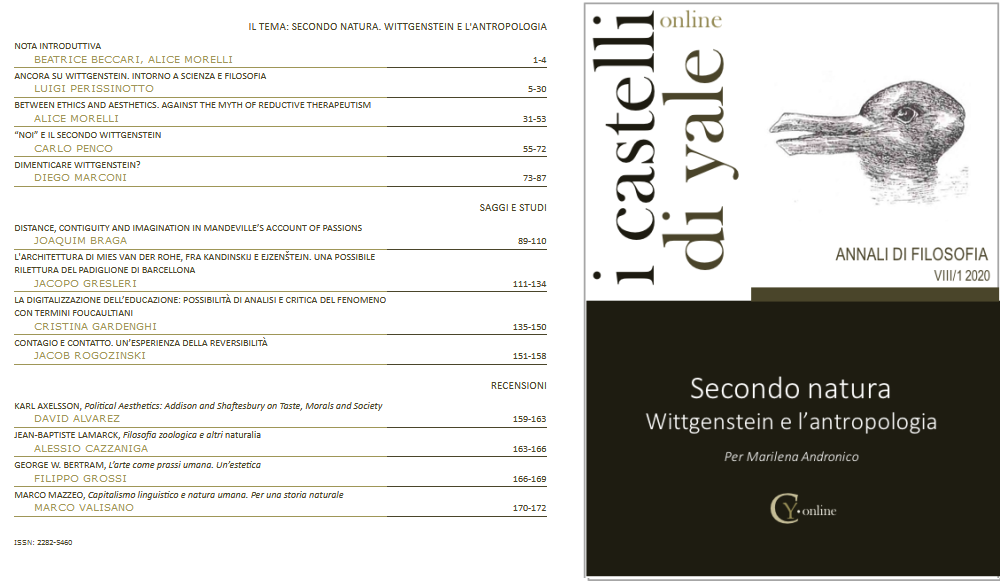 Downloads
Sezione
IL TEMA: SECONDO NATURA. WITTGENSTEIN E L'ANTROPOLOGIA